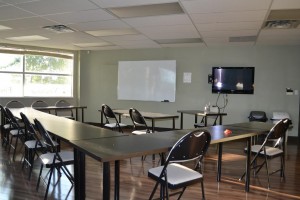 Do you need first aid certificates in Edmonton and don't know where to go? Are you contemplating on-line courses? Maybe your worried that you'll take a course and the certificate won't meet your requirements. Many people that require first aid certification turn to Edmonton First Aid because it offers Alberta OH&S approved certification and its the lowest priced provider in the area. It has been offering courses since 2008 and has grown to be one of the most popular providers because of a wide range of reasons including number of courses, its staff, easy of registration and convenience. Staff and teachers are polite, friendly and welcoming and the facilities are well-maintained and clean. Scheduling is very flexible, with classes held throughout the week (including evenings and weekends). Students can find a complete list of classes, as well as a registration form on the Edmonton First Aid website.
[advanced_iframe src="https://firstaidcpredmonton.ca/upcoming-events/"]
This provider boost a varying number of different classes including on-line safety training, food safety certification, pet first aid, advanced first aid, intermediate first aid, basic first aid, basic life support (BLS) and advanced cardiac life support (ACLS). Many of our OH&S approved courses are also available in a blended format which allows participants to take a significant portion of the course on-line before attending the class for practical skill evaluation. Use the contact information below to register for a course or for more information about registration and training.
Enrolment
A variety of registration methods are available. Participants may register in person or use the following contact information:
Website: http://firstaidcpredmonton.ca
Telephone: 1-888-870-7002
South Edmonton Training Centre Address: 7915 – 104 Street, Edmonton, Alberta, T6E 6M6
North Edmonton Training Centre Address: 11823 114 ave NW Edmonton T5G 2Y6
Email: info@canadianfirstaid.ca
South Edmonton Certification Centre
This popular training provider is located just south of Whyte Avenue and provides lots of free parking. Lots of restaurants and amenities are located nearby for students to take advantage of during lunch time. This training centre proudly serves students of the University of Alberta for programs such as intermediate first aid, basic first aid, Mask Fit testing and food safety certification. Located south of Downtown Edmonton this certification centre provides easy access to people of Strathcona, Mill Creek Ravine North, Queen Alexandra, Ritchie, South Commons, Leduc, Garneau and many more. For more information about this training location view the map below.

Students who drop out are entitled to full refunds, provided a 72-hour notice is given beforehand.
North Edmonton Certification Centre
This north central Edmonton training location has been serving the people of Edmonton, St. Albert and Northern Alberta since 2022. It also serves students of NAIT, McEwan and NorQuest Universities as well as the neighbourhoods of Inglewood, Blatchford, North Central Edmonton and Downtown Edmonton. Located south of Kingsway, this location provides ample access via public transit and also ample on-site free parking. For more information about the amenities nearby please check out the map below:

First Aid Certificates in Edmonton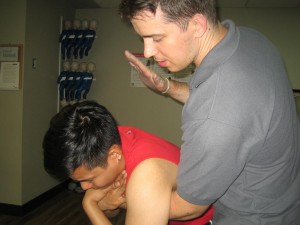 First aid training
First aid training programs with Edmonton First Aid are focused on knowledge and skill development of different first aid skills and topics. Topics such as the one listed are taught in the program:
Wound care including amputations, embedded objects, flail chest injuries and abrasions
Management and recognition of broken bones and fractures
Cardiopulmonary resuscitation for adult, child and infant victims
Automated external defibrillation (AED). When and how to use it.
Recognition and management of fully obstructed and partially obstructed airways (choking)
The legal implications of providing first aid and CPR
Management and recognition of circulatory emergencies including heart attacks, angina, stroke and T.I.A's
Management and recognition of breathing emergencies such as anaphylaxis, hyperventilation and shock
How to manage sudden medical emergencies such as diabetic emergencies and seizures
Management of environmental emergencies including hypothermia, heat exhaustion, heat stroke, poisonings and heat cramps
Management of head, neck and spinal injuries
Management of concussions and drug related emergencies
When and how to help with medication using the 5 rights of medication
These and many more topics are covered in a OH&S approved standard first aid certification course in Edmonton.
What People Are Saying About This Provider?
Check out some of the testimonials from customers that attend courses:
Low prices, great teachers and multiple locations to choose from. I was very pleased with the registration process. During class the teacher made all the material very easy to relate to and provide plenty of stories. Her experience and knowledge made the class realistic and enjoyable. We also got to practise all of our skills on mannequins. Thoroughly enjoyed the course

We needed a last minute private course that met Alberta OH&S requirements and Edmonton First Aid pulled through. We contacted them the night before as another provider had cancelled and they were able to send an instructor to our facility the very next day. Very professional and they have a great business sense
Take a Class today and make your own review!
Certification
Certificate cards are awarded to students upon passing a program. Wall-mount certificates can be requested. The certificates are only valid for three years but will meet what requirements and legislation you need it for.
To pass a course or program, a student needs the following:
Complete attendance
At least 75 percent on the written exam
Good demonstration of skills
Certification meets Alberta OH&S requirements.
Private training of First Aid Certificates  classes in Edmonton
Students can book private instructors for special training at home or workshops and conferences. Different instructors have different rates and schedules so so send e=mail or give a call to inquire about them.
Did You Know?
Food-borne illnesses: when to get help
Food-borne illness symptoms are pretty self-limiting and go away in a few days. However, persistent symptoms and other factors affect your body's ability to fight it so you're better off getting check out by a medical professional.
Persistent and severe symptoms such as bloody diarrhea
You are high-risk (older adults, infants and children, have a chronic autoimmune disease)
Botulism poisoning (food poisoning from canned food; symptoms: headache, blurred vision, nausea and vomiting, muscle weakness, paralysis)