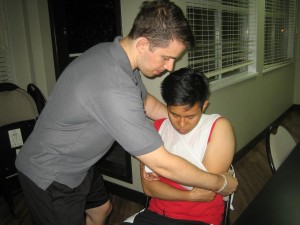 Candidates in Canada have the option of selecting from a variety of first aid providers when looking for first aid and CPR certification. The providers are all essentially the same except for a few providers that offer no more than on-line training and certification. To get certified as soon as possible register for a course here.
 Variety of Different Providers for First Aid and CPR:
The following is a list of the major first aid providers in Canada:
The Canadian Lifesaving Society.
The Heart and Stroke Foundation.
St. Johns Ambulance.
All of the providers follow the guidelines recommended through the International Liaison Committee on Resuscitation (ILCOR). All of the CPR instruction provided in these courses is 99% identical. The first aid courses have remained almost identical for the past decade. Candidates that register for first aid and / or CPR courses with any of these providers are getting identical certification through government and licensing standards.
What is the difference between these major providers?
Other than the name or logo on the first aid certificate, these major providers offer exactly the same certification. St Mark James offers some courses exclusively such as childcare first aid which is not available through any other provider. Candidates should not be concerned as to which provider they choose as they offer identical awards.
Why Workplace Approved Certification:
St Mark James is the leader in first aid and CPR courses because it offers re-certification courses for candidates that need to renew their awards.St.Johns Ambulance does not offer renewal courses and offer the highest prices with the most stringent courses that many candidates have deemed as "lectures". St Mark James offers comprehensive and up-to-date manuals for candidates. The Lifesaving Society has poor standards for its manuals that are lagging in up-to-date material. The Heart and Stroke Foundation is a leader in research, however, courses can be difficult to find and incredibly expensive. Out of all the providers St Mark James Training offers the highest quality and quantity of first aid and CPR courses at the most affordable prices.
Certification:
Regardless of which provider you choose to take your course with you will receive a wallet sized first aid and / or CPR certificate that is valid for at least 3 years. Candidates can opt for larger "wall mount" certificates from most providers (could be an additional charge).