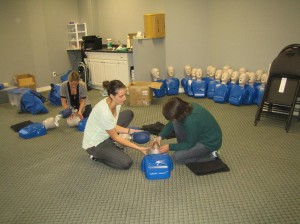 Do you need first aid and / or CPR certification for school or the workplace? Do you want to learn the latest rescue techniques with experienced teachers, in high-end training facility at the lowest prices? Participants that register with Halifax First Aid receive the best training, with knowledgeable instructors at amazing prices. Certification issued through this training provider in Hamilton meets Nova Scotia workplace and academic requirements. Popular courses include standard first aid (a two day course), emergency first aid (a one day course) or you can register for stand-alone CPR programs like BLS, CPR level "C" and health care provider CPR (CPR HCP). Safety training is also popular with this provider with training that includes WHMIS, TDG and MSDS. for individuals that work in the food preparing, storing, handling and transport of food can register for Nova Scotia approved food handling certification programs. The Halifax First Aid website here has a complete list of rates and schedules for you to choose from.  You can also use the information posted below to contact this provider.
Contact and Registration Information for Halifax First Aid
Enrollment at Halifax First Aid is straight-forward and easy. You can enrol through:
Telephone call: 1-888-870-7002
E-mails – info@firstaidcourses.ca
On-Line Registration – (highly recommended) – http://firstaidhalifax.ca
An online application form is also available where you can input all your training data. Payment and other forms will still need to be filled out in person before starting your training.
Courses Available with Halifax First Aid
First Aid and CPR Certifications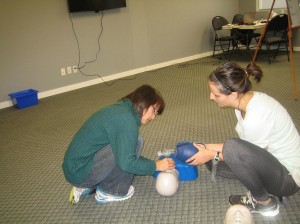 The following first aid, CPR and AED certification classes are available with this Halifax provider:
Standard first aid, CPR and AED – this is a two day course that is the most comprehensive and popular first aid class available. CPR level "C" is commonly partnered with this course.
Emergency first aid, CPR and AED –  this is a one day course that is often referred to as basic first aid. CPR level "A" is commonly partnered with this course.
Childcare first aid, CPR and AED – this is a two day course that is similar to the standard course. This class is commonly partnered with CPR level "B".
Babysitting Training – this first aid and CPR course is a one day program that is ideal for babysitters wanting to know what to do in case of emergency while babysitting.
CPR and AED Only Courses of First Aid Certification in Halifax
The following courses do not include any first aid certification and only provide CPR and AED certificates / training
CPR level "A" – this is a 4 hour course that teaches CPR rescues for adult victims only.
CPR level "C" – this is a 5 hour course that teaches CPR rescues for victims of all ages.
CPR level "HCP" – this is a 6 hour course that teaches CPR rescues at a health care provider level for victims of all ages
Basic Life Support (BLS) – this is a 4 hour course that teaches health care professionals basic CPR rescue techniques
Advanced Life Support (ACLS or PALS) – this is a two day course that teaches advanced life support techniques for either cardiac or pediatric victims.
Re-Certification Courses
Participants that have current awards may be able to re-certify. The following awards can be renewed:
Standard first aid, CPR and AED
CPR level "C"
CPR level "HCP"
Please ensure you meet the prerequisites prior to registering.
Did You Know?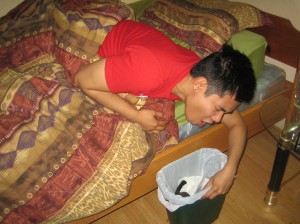 Appendicitis: causes
While the appendix has no known use to the body, getting it damaged, injured, and infected can pose a great threat to health. When the sac or pouch-like structure becomes inflamed, it can burst, opening the gastrointestinal tract to the rest of the abdomen. GI contents are dirty and can cause widespread infection if the appendix isn't removed before it bursts. Appendicitis is characterized by severe abdominal pain and rebound tenderness (pain when pressure is released) and can be caused by:
An obstruction such as food waste or stool can block the cavity of the appendix and start an infection.
An infection from the GI tract can also damage the appendix and cause it to become inflamed.
Whether it is due to an obstruction or infection, when the appendix is closed off, bacteria can rapidly multiply inside which causes the inflammation. A ruptured appendix is the most common – and dangerous – complication.