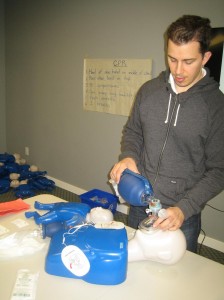 Get first aid certification with the largest, lowest priced and most popular Ontario WSIB approved provider in Mississauga. Learn to manage and recognize emergencies that include heart attacks, stroke, cardiac arrest, hypothermia, broken bones, concussions, heat stroke and more by enrolling in the popular two-day standard first aid and CPR course. Other popular programs include emergency first aid, WHMIS, TDG, food safety, pet first aid, stand-alone CPR level "HCP", oxygen administration, BLS and transportation of dangerous goods. Certification provided through these courses will boost your resume and employment skills and teach you valuable safety and life-saving techniques. Visit the Mississauga First Aid website for a list of available classes and schedules or use the contact information provided below.
Contact Mississauga First Aid
To contact this provider and / or to register for a course use the following contact details:
Website for on-line registration and schedule: http://firstaidcprmississauga.ca
Telephone (available from 7 am to 7 pm from Monday to Sunday): 1-888-870-7002
Email: info@firstaidcourses.ca
Customer service staff are available 12 hours a day 7 days per week. On-line registration is available 24 hours a day. A on-line chat option
First Aid, CPR, and AED Certification Classes at Mississauga First Aid
Mississauga First Aid offers a large selection of different first aid certification classes. List below are some of the more popular classes available with this Ontario provideR:
Standard Childcare First Aid, CPR level "B" and AED (Re-certifications are available)
Standard First Aid, CPR level "A", "C" or "HCP" and AED (Re-certifications are available)
Emergency first aid, CPR level "A", "C" or "HCP" and AED 
CPR level "A" and AED
CPR level "C" and AED (Re-certifications are available)
CPR level "HCP" and AED (Re-certifications are available)
Babysitting first aid and CPR
Basic Marine fist aid and CPR
Basic Life Support
To view the upcoming schedule of the above noted classes use the contact information posted higher on this page.
Other Services Available with Mississauga First Aid
The following services are available with this provider:
WSIB complaint first aid kits and re-stocking services
Advanced first aid and safety supplies
AED sales and services
Workplace Safety Audits
First Aid attendee rentals
Private training programs for large and small groups / companies
To schedule,  purchase or book any of these services please use the contact information posted above.
Available On-line Safety Training
The following on-line safety programs are available:
Workplace Hazardous Material Information System (WHMIS)
Material Safety Data Sheets (MSDS)
Transportation of Dangerous Goods (TDG)
Confined Space Entry
H2S Awareness
Fire Safety
Medical Terminology
All on-line courses are available for registration on the Mississauga First Aid Website.
Did You Know?
First aid for a foreign object in the nose
DO NOT use anything in the nose such as a swab or a stick. DO use tweezers to remove the lodged object.
STOP trying to remove the object with tweezers if you experience pain.
DO NOT try to inhale the object. Breathe through your mouth.
DO blow nose GENTLY. Only do this once. Close one nostril then blow the other with the lodged object.