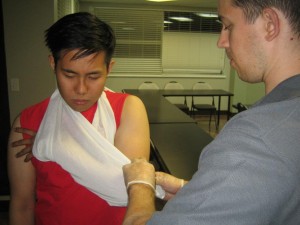 Nanaimo First Aid offers prospective trainees first aid training certificates from St Mark James. All classes are taught and overseen by workplace approved certified instructors and held in high end training facilities throughout the city. Students get the best possible training in the most productive learning environment. Students can enrol in regular courses, private classes, and recertification programs. Nanaimo First Aid offers the largest selection of training courses so you are sure to get a class that fits your needs.
Visit the website for a list of available classes, rates, and schedules.
[button link="#Reg"]Click Here to Sign Up for a Course On-Line[/button]
Training at Nanaimo First Aid
First aid classes are very comprehensive, focusing on basic first aid knowledge and skills. Students learn about wound care, cardiopulmonary resuscitation (CPR), automated external defibrillation (AED), and the emergency medical services (EMS) system. AEDs are machines that detect heart rhythms and supply the heart with needed electrical shock. The core competencies of the program allow a trainee who has finished it to be able to recognize and react to different situations and injuries. The entire standard first aid program is 14-16 hours long, with schedules throughout the week (including evenings and weekends). Stand-alone classes for CPR/AED are also available (three levels: A, C, and HCP)
A student needs the following to pass a program: complete attendance, at least 75 percent on the written exam, and good demonstration of skills.
Certification and renewal
All students are awarded a certificate card upon passing a class or program. Students can also request wall-mount certificates if they want to. The certificates are valid for three years during which they can be renewed. Renewal of expiringh or near-expiry certification is done through recertification programs, held twice a week. Renewal courses vary in length depending on the type. Recertification for standard first aid and CPR is 8 hours long, inclusive of CPR level C recertification.
Private instruction
Big groups of trainees or students with scheduling problems can opt for private classes. Instructors may also be hired for training outside of the facility, such as special training at home or for events like workshops and conferences.They have different rates and schedules but you can inquire about them through e-mail or telephone call.
Enrolment
Enrolment and signing up is really easy. The website has an online registration form you can us, as well as contact information like telephone numbers and e-mail addresses. Prospective students can sign up through e-mail and telephone as well. Walk-ins during business hours are highly encouraged by the staff.
Rates and course fees
The program rates are Nanaimo First Aid are the cheapest in the city without compromising the quality of the program. Students don't have to worry about additional expenses while training because everything is included in the fees: taxes, certification expenses, and workplace approved training manuals.
Students who do not finish the program and drop out are entitled to a full refund of the tuition, provided a 72-hour notice is given beforehand.
Did You Know?
Tick bites
Ticks are relatively harmless but can transmit bacteria that causes different illnesses such as Lyme disease of Rocky Mountain Spotted fever. Ticks are usually found in the woodland but can stick to clothes and objects and be brought into the home.
First aid for tick bites
Remove the tick carefully with a pair of tweezers. Do not crush the tick.
Place the tick in a container for reference (if the doctor wants to see it, in case symptoms develop).
Clean the bite with soap and water and wash your hands.
Go to a doctor if you can't remove the tick.
On-line Enrolment for First Aid Certificate in Nanaimo, B.C.
[contact-form-7 id="330″ title="Registration Form"]