Training in American CPR courses has been one of the most popular extracurricular activities by students these past few years. The WHO and CDC have been working very hard to raise awareness regarding the importance of CPR and heart disease prevention. We offer a variety of CPR training courses (basic and advanced), inclusive of basic first aid lessons. You can sign up for CPR training at any of our locations – they all offer the same courses at the same rates.
Training locations: Los Angeles (CA), San Francisco (CA), Honolulu (HI), Las Vegas (NV), Seattle (WA), Portland (OR)
Studying CPR and first aid
A CPR and first aid class is quite easy to complete as long as you have the determination and drive in learning the two lifesaving skills. Our CPR and first aid training courses are categorized into Basic Life Support, Advanced Life Support, and re-certification.
Basic Life Support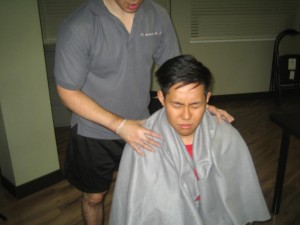 In 2010, the latest Basic Life Support guidelines were released by the American Heart Association (AHA). The BLS guidelines were created in order to help rescuers perform CPR correctly. Chest compressions alone can double or triple the chances of a victim's chances of survival. However, when done incorrectly, it will do more harm than good.
The BLS sequence starts with recognizing cardiac arrest and activating the emergency response system. Cardiac arrest is a condition where the heart stops beating, usually because of a heart attack. When a person is experiencing a cardiac arrest, there is no detectable pulse (or a very, very weak pulse). The victim will most likely have irregular breathing or will not breathe at all, making both compressions and ventilation very important.
We have three Basic Life Support American CPR courses available:
Heartsaver CPR – A general public course for one-rescuer CPR and first aid that lasts 4 hours
Heartsaver C CPR – A health care provider course that lasts 4.5 hours and has the same curriculum as the other first aid class
Basic Life Support for HCPs – A course that lasts 4.5 hours and teaches one and two-rescuer CPR and the 2010 BLS guidelines
Advanced Life Support
Advanced Life Support classes follow the same format and core skills as the BLS programs, but the focus is on medical management. Because medical interventions can only be performed by certain members of the health care team, only health care professionals can apply to an advanced CPR class. Medical management typically involves the use of medication, equipment, and procedures in order to manage cardiac arrest.
There are two ALS programs available, both taking two days to complete, between 14 and 16 hours long. Re-certification is likewise available for both courses.
Advanced Cardiac Life Support – A 16 hour course for the management of adult cases (over the age of 18 years old)
Pediatric Advanced Life Support – Has the same curricula as ACLS but focused on pediatric cases, primarily infants, toddlers, and younger children.