The concept of Basic Life Support was created to serve as a guide for CPR rescuers. The lifesaving skill of CPR is no longer confined to people who work or study health care. There are numerous training providers in the US  that offer basic and advanced CPR training, us included! We have six training locations in the country that offer the best CPR programs in their respective cities.
For prospective trainees who want to enroll in a training program with us, we have eight programs available (5 training courses, 3 re-certification classes). You sign up over our location websites; there is an online form you can fill out (it's avaialble 24/7). Any requests or queries sent through e-mail will be processed during our regular business hours.
The American Heart Association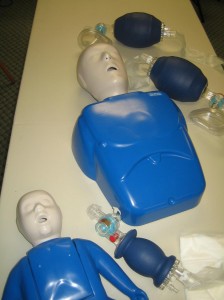 The AHA is an organization that is dedicated to reducing mortality attributed to heart disease and stroke. Because of this goal, they have conducted research on the best ways to prevent heart disease and death because of it. Since the 1700s, research has been done regarding the effectivity of CPR in rescuing victims of cardiac arrest. In the late 1900s to the early 2000s, it has been discovered that the use of CPR can drastically improve survival rates when performed correctly.
2010 Basic life Support
The main highlight of the BLs guidelines is the sequence to follow when a person collapses.
Recognition of sudden cardiac arrest (SCA) –> activation of emergency response system
Early CPR –> compressions and ventilation
Rapid defibrillation (with an automated external defibrillator/AED)
Advanced Life Support (usually done by EMTs and in the emergency room)
Post-cardiac arrest care
For trained rescuers, this series of steps serves as a guide when assessing a victim who is unconscious and unresponsive. Once a person has collapsed and the immediate area is deemed safe, the emergency response system should be started immediately. Check for the victim's pulse for no longer than 10 seconds followed by checking the airway and respiration. Once one or the other is irregular or absent, call for help.
Starting CPR
Position the victim flat on his back (note: movement is contraindicated if the victim fell from a height or  has an apparent neck/back injury) with head tilted back and jaw thrust open. Place both hands in the center of the chest and press down at least 2 inches for adults and approximately 1.5 inches for infants and toddlers. Give a set of 30 compressions, allowing the chest to recoil each time. After compressions give 2 rescue breaths, allow chest to rise and fall before the next breath. This is one cycle. Repeat until victim gets a pulse or the EMTs arrive.
Available programs
Basic Life Support for health care providers 4.5 hours
Heartsaver – 4 hours
Heartsaver C (for health care providers) – 4.5 hours
Advanced Cardiac Life Support – 16 hours
Pediatric Advanced Life Support – 14 hours
All of the programs listed are certification courses. Certificates are valid for two years before they have to be renewed.