CPR training has become quite popular in Hawaii over the recent years, with awareness being raised on the dangers of heat disease and its resulting complications. We have basic, advanced, and re-certification classes available at various schedules through the week. CPR is quite an important lifesaving skill to have, along with first aid. A lot of complications can be prevented with correct and timely CPR and first aid.
Signing up for training
Enrollment is quite easy if you want to sign up for training at Honolulu CPR. There are different methods to sign up for training with us; the most popular way to start your enrollment is on the Honolulu CPR website, with our online application form. The form is available all day (24/7) but entries will only be processed during our normal operating hours. Similarly, you can send your inquiries or details regarding training through e-mail or over the telephone.
We encourage all our prospective students to visit us in person to start signing up as well, so enroll for a training course in person during our business hours.
First aid: Treating a burn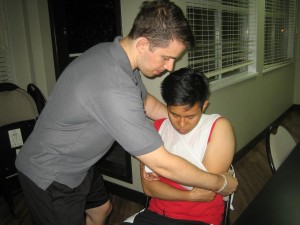 All of our basic courses include first aid training for common emergencies that can be managed (primarily) at home. Burns are quite common household injuries, especially for people who do the cooking. If drops of hot oil manage to land on your hand or arm, run it immediately under room temperature or cool (not cold) water. If the burn is not serious, just put burn ointment on the affected area. If the burn affects a larger area, run it under cool water as well but be sure to see a doctor. Your doctor may prescribe an antibiotic ointment and pain medication. If your face, neck, or chest get burned, call an ambulance or be brought immediately to the hospital. Burns like this can adversely affect your respiration, especially if your nose, mouth, throat, and chest are affected.
CPR certification in Honolulu
All of our programs are certification classes; we award trainees with certificates once they finish the training class with complete attendance and a pass on the certification exam. We have five training classes in total, as well as accompanying re-certification classes for three of them.
Basic training in CPR, AED, and First Aid
Heartsaver CPR – general public class, 4 hours – one-rescuer CPR
Heartsaver C CPR – health care provider class, 4.5 hours – one-rescuer CPR
Basic Life Support for HCPs – health care provider class, 4.5 hours – one and two-rescuer CPR
Advanced training in CPR, AED, and First Aid
Advanced Cardiac Life Support – advanced class for medical management of adult cardiac arrest cases, 16 hours
Pediatric Advanced Life Support – advanced class for medical management of pediatric cardiac arrest cases
All credentials that we award students expire after 24 months. Before your certificate expires, we will advise you to sign up for re-certification training. We do not renew expired credentials; if ever your credential does expire, you will have to retake the training program instead of a re-certification class.