Los Angeles CPR is one of the quality training providers you will find in California. We offer high quality training programs for very affordable prices (compared to other providers in the area). We have basic and advanced programs available through the week, and when our regular schedules cannot accommodate all our trainees we open new schedules during evenings and weekends. There are more details on our website for Los Angeles CPR.
Handling a choking emergency in children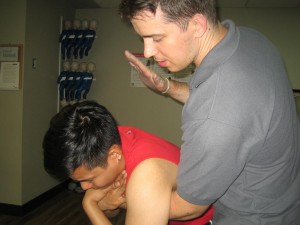 As a parent, one of the most frightening things is to have your son or daughter put something in their mouth or nose and have them choke on it. Choking on small objects is very common among toddlers, since it's the time when they start becoming more investigative about their surroundings and the things they play with. Children are actually more likely to choke on small toys and other similar objects than food (which is more common in adults).
If your toddler is choking on a small object, quickly open his or her mouth and check if you can read in and pull the object out. Do not do a sweep of the mouth without looking first; you might push the object further into your child's throat. If you cannot reach in take the object out, quickly make five blows to your child's back or perform the Heimlich maneuver.
The Heimlich maneuver is typically performed by wrapping your arms around a person's waist, making a fist, and thrusting your fists inwards and upwards. This is usually too difficult to perform on a child but if back blows don't work, it can be an alternative method (usually with one fist only). If you cannot dislodge the object in five minutes, bring your child to the nearest emergency room.
CPR and first aid training courses
We have three categories where our fit in: basic, advanced, and re-certification training. Basic courses last between 4 and 4.5 hours. Advanced courses are much longer, taking 14 or 16 hours to complete, over 2 days. Re-certification courses are for trainees who need to renew their training credentials (which are only valid for 2 years).
PALS training – Short for Pediatric Advanced Life Support, this is an advanced course for professionals that is 14 hours long. Re-certification is 6 to 8 hours long.
ACLS training – Short for Advanced Cardiac Life Support, this is advanced course for professionals as well that is 16 hours long. Re-certification is 5 to 6 hours long.
Basic Life Support for HCPs – This basic course is for health care providers (HCPs), and lasts 4.5 hours long. It teaches one and two-person CPR rescue. Re-certification is 4 hours long.
Basic CPR and AED (Heartsaver) – This basic course is for the public (people who aren't health care providers or professionals) and lasts 4 hours long.
Basic CPR and AED for HCPs (Heartsaver C) – This basic course covers the same topics as the public training course, but with all topics tailored for people who work in or study allied health.