Fact Checked
A number of eye injuries can cause subsequent bleeding. Some common injuries such as puncture wounds from accidents may need urgent medical attention or sometimes even a surgery to prevent permanent eye damage. Minor and simple scratches might also need constant monitoring after seeking medical attention to ensure that no infection might occur in the affected eye.
What to Do With Eye Injuries?
When there is a foreign object in the eye
To remove a small, loose object in the eye, ask the person to look up and draw the lower lid down. If you can see the object, try to remove it by the corner of folded clean, wet cloth. If the object is not visible, ask the person to look down then grasp the lashes of the upper lid and pull it over the lower lid to dislodge the foreign object. If the object is still in the eye, wash it off with a gentle stream of warm clean water or normal saline. As for the embedded foreign objects, cover the affected eye with a clean cloth and or a dressing and go to the nearest emergency department. Ensure that no pressure is placed over the affected eye.
When there is a penetrating object in the eye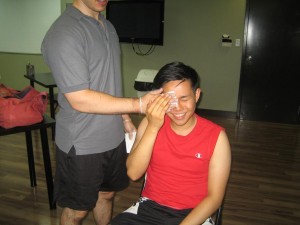 Penetrating eye injury is usually caused by any sharp object that has penetrated the eye or is protruding from the eye. If a foreign object is penetrated or impaled in a person's eye, ask the person to go to the nearest hospital for urgent care. Never attempt to remove the impaled object as your first aid response. It is best to put a paper cup or soft eye shield just over the bony prominences around the eye and tape it with a roller bandage without applying any pressure. Seek medical treatment as soon as possible.
Other first aid tips in managing eye injuries
Do not rub the scratched eye.
For splashed injuries, wash it off with gentle stream of warm water for about 15-20 minutes. You may also place a moist, cool ice pack over the affected eye but never apply pressure. If you see that the affected eye is extraordinarily red or blurry, immediately seek medical attention.
For a bleeding eye that is usually painless (subconjuctival hemorrhage), no treatment is usually required. Seek medical attention if it does not resolve after several weeks or if any other symptoms occur such as vision changes).
For the most part, once you have had an eye injury, seek medical attention as soon as possible and treat all eye injuries as potential emergency situations at all times.
Was this post helpful?
Let us know if you liked the post. That's the only way we can improve.