Portland CPR is a training provider of high quality CPR and first aid classes in Portland, Oregon. Learning CPR is something that everyone should be responsible enough to place in their to-do list. Over 600,000 Americans die each year because of a cardiovascular problem, with roughly a third to half of that due to heart attacks and eventual cardiac arrest. Knowing how to manage cardiovascular emergencies can actually improve a patient's chances of survival if done correctly and within the first ten minutes of cardiac arrest.
Getting certified
If you work in health care or are an allied health professional, you will most likely be required by your place of employment to have basic or advanced training in giving CPR and first aid. Today, even office workers are required to have at least basic training in those areas. Certification is available with all our programs at Portland CPR – valid for two years before the credential has to be renewed.
Note: Re-certification, however, is only available for three (out of five) of our courses.
Managing your health: Hypertension
Hypertension is a chronic disease that is characterized by persistently high blood pressure, even during rest or non-strenuous activities. Hypertensive values include a systolic of 140 and higher and/or a diastolic of 90 and higher. Normal blood pressure values include systolic of 119 and lower and/or a diastolic of 79 and lower.  Values that fall between normal and hypertensive are called pre-hypertensive – middle ground where a person is not yet hypertensive but is on the way there if he or she cannot adjust his or her lifestyle.
Hypertension and heart attacks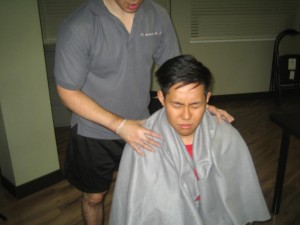 A heart attack is usually preceded by different factors – mainly a pre-existing cardiac condition. Coronary artery disease is the leading cause of heart attacks. CAD is a disease where the coronary arteries (vessels that supply the heart with blood) get blocked with deposits of fat and inflammatory cells. The blockage begins to obstruct the vessels which decrease the amount of oxygenated blood that reaches the heart. Lack of oxygen can cause cardiac dysfunction and eventual cardiac arrest.
Hypertension plays a big role in sudden heart attacks, because a rise in blood pressure causes the vessels in the body to narrow (vasoconstriction). Coupled with a blocked artery, the sudden rise on blood pressure can completely cut off blood supply to the heart causing a heart attack.
Enrolling in our classes
We have five training courses available, three for basic and two for advanced CPR.
Basic Life Support for HCPs (basic)
Advanced Cardiac Life Support (advanced)
Pediatric Advanced Life Support (advanced)
Heartsaver (basic)
Heartsaver C (basic)
The first three courses on the list have re-certification available. The fourth course is the only course we offer to the public (laypersons), the rest are for health care providers and professionals.
Note: In order to sign up for advanced training, you need to have a Basic Life Support for HCPs credential. A pre-test is also given that you have to pass before proceeding to training.