Learning CPR is easy if you are committed to becoming a trained rescuer.  Cardiopulmonary resuscitation is one of the skills that every person should have, regardless of what career they are in or what they are currently studying. Knowing how to correctly perform CPR means that you can help a victim who suddenly falls unconscious due to cardiac arrest or other cardiovascular emergencies.
Sign up for training at San Francisco CPR today!
Training programs in CPR and first aid
We have programs available for people who work in allied health or study health care and programs for laypersons or the general public. These programs can last as short as 4 hours or as long as 16 hours. Basic CPR and first aid are part of our program's curricula, with basic and advanced courses in CPR including first aid training.
Certification is also awarded to all our trainees who are able to complete the program with full attendance and a passing grade on the post-test (certification test). These certificates expire after 24 months and has to be renew before the expiration date (through a re-certification class). Re-certification classes can only be taken if the certificate is still valid; expired certificates cannot be renewed. In the case that your certificate expires, you need to take the training program again.
Note: Re-certification is only offered for three of our programs – Basic Life Support for HCPs (4 hours), Advanced Cardiac Life Support (ACLS) (5 hours), and Pediatric Advanced Life Support (PALS) (6 or 8 hours).
Schedule CPR and first aid training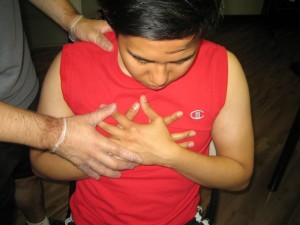 We categorize our programs into basic and advanced training, with three in the former and two in the latter.
Basic Life Support
Basic Life Support for Health Care Providers (4.5 hrs) – one and two-person CPR.
Heartsaver C (4.5 hrs) – one-person CPR for HCPs
Heartsaver (4 hrs) – one-person CPR for the public
Out of the basic courses, only one is available for the general public. The rest of the programs are for HCPs.
Advanced Life Support
Advanced Cardiac Life Support (16 hrs) – medical management of adult patients
Pediatric Advanced Life Support (14 hrs) – medical management of pediatric patients
Both of these advanced classes are longer than the basic classes, and take two days to complete over several sessions. Their re-certification classes, however, are shorter, and take only one to two sessions to complete over one day.
Enrollment
Enrollment is quite easy, with an online form on the San Francisco CPR website available all day. We also encourage our prospective students to get CPR certification in San Francisco and sending their inquiries through e-mail or over the telephone. Enrollment in person during business hours is also encouraged.
Knowing how to perform CPR correctly means that you can save a person's life if he or se suddenly gets a heart attack. Heart attacks are serious conditions where the blood flow to the heart suddenly gets cut off. Five to ten minutes without CPR can cause irreversible damage to the brain and major organs. Enroll in training today!